Inbound Machine PRO
Do-It-For-Me Playbook Bundles for Late Adopter companies. Learn 3 Key Lessons to help grow your business from Socal Digital Agency.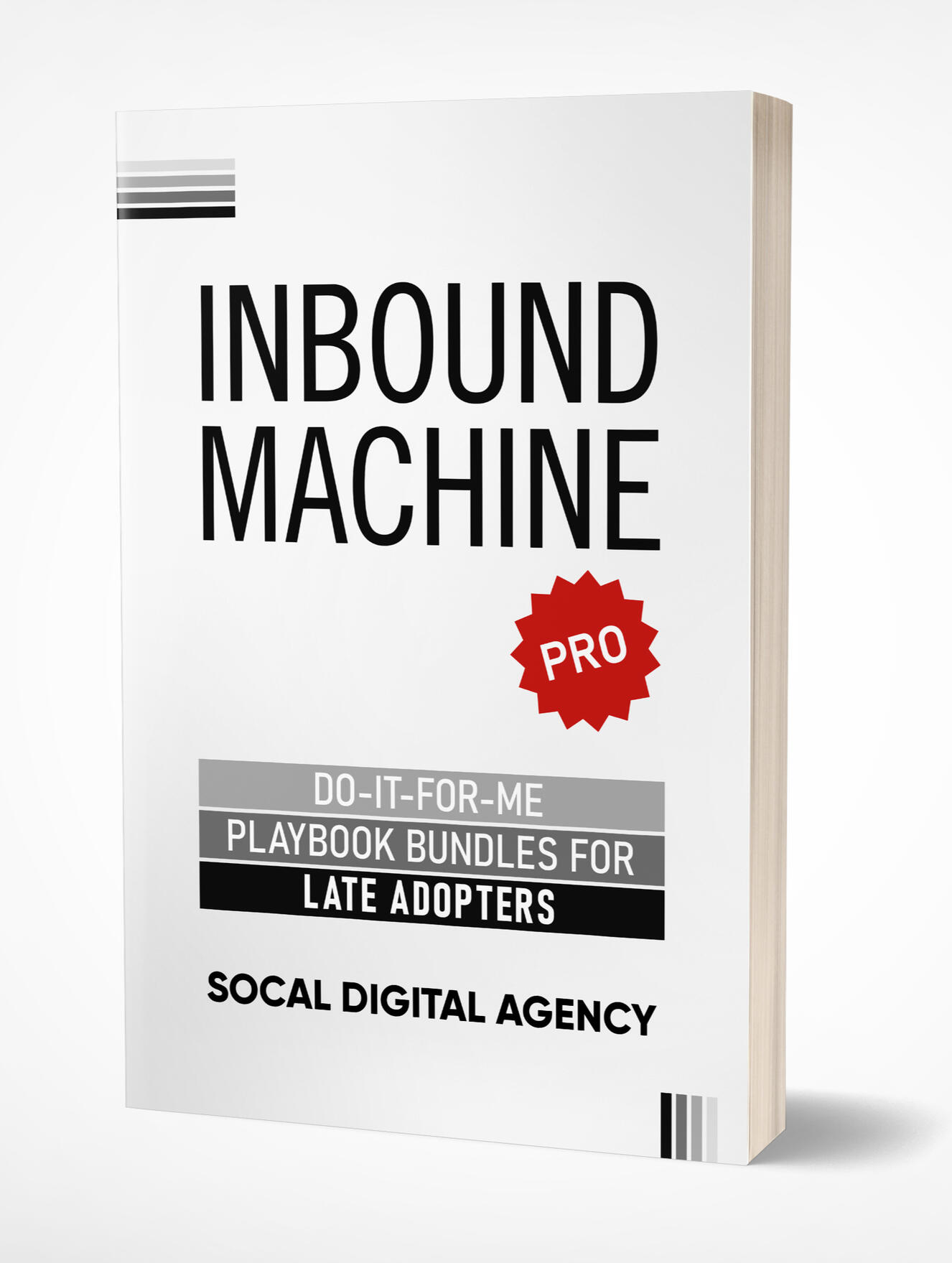 SAAS Founder
Silicon Valley, USA
⭐️⭐️⭐️⭐️⭐️
"You rock :). I love your marketing hacks. Lots to learn from you"
Stephen M
Los Angeles, USA
⭐️⭐️⭐️⭐️⭐️
"..by far the best, more professional, proficient, timely, and organized provider I've dealt with.."
Greg V.
Long Beach, USA
⭐️⭐️⭐️⭐️⭐️
"I am very happy to recommend Socal Digital & good luck with your project"
This eBook covers:
INTRODUCTION TO SOCAL DIGITAL AGENCY

-Technology Adoption Life Cycle

-The Media Landscape

-Marketing 101

-Marketing Plan Updates

DEFINE YOUR MARKETING TOOLKIT

-Content Management System / CMS

-Customer Relationship Management

-Google My Business / GMB

-Chatbots

-Automation Tools

-Company Public Relations

-Direct Mail Campaign

-Developing a Direct Mail Campaign

ANNUAL VALUE OF NEW CUSTOMERS

-How to Determine Customer Value

THREE KEY LESSONS

1. New Leads to Grow

2. Inbound Lead Conversions

3. Fewer Steps Multiply Response

SOCAL PLAYBOOK BUNDLES

NEXT STEPS
Socal Digital Do-It-For-Me Playbook Bundles
SOCAL PLAYBOOK PHASE 1
Phase One WP99 DELUXE™ will start the process. Based on our initial Marketing Examination & Strategy Session, we will get your site running on our WordPress optimized server with editable Theme and begin our SoCal Digital Playbook Bundle deployment
SOCAL PLAYBOOK PHASE 2
Phase Two DESIGN FULL PR™ builds on the Phase One foundation and deploys more Socal Digital Playbook solutions including Tailored Deluxe WP Theme, GMB Updates, Initial CRM setup, Company PR, Product PR,, SoCal ChatBOT setup, Online Training.
SOCAL PLAYBOOK PHASE 3
Phase Three INBOUND MACHINE PRO™ builds on the previous Phases and puts your Tailored Marketing Plan on overdrive, complete with Digital Coupons, QR Codes, CRM Integration, SoCal ChatBOT Pro™, Lead Rumble™ Live agent support,, weekly Zoom Sales Meetings and more.